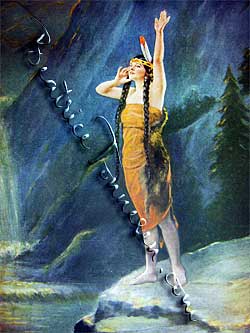 This is a site about Beatrice Tonnesen (1871-1958), Photographer to the Stars…Star artists and illustrators, that is! Her photographs inspired the work of prominent artists during what is sometimes called the Golden Age of Illustration, roughly 1900-1940. Artists including R. Atkinson Fox, Homer Nelson and others-possibly Rudolph Ingerle, Charles Relyea, Zula Kenyon and Hy Hintermeister among them- sometimes painted from her photos to create the artwork they supplied to the booming calendar print trade. Additionally, many unsigned prints and photos that appeared as calendars, other advertising and framed prints for wall decor, originated in the Chicago studio of Beatrice Tonnesen. She specialized in the theme of home and family, depicting loving mothers, charming children at play, and families awaiting the return of their WWI soldiers. But her subjects also included Indian maidens, Victorian ladies, flappers, dogs, cats and more.
Beatrice, who was hearing impaired, was a pioneer in advertising and art photography and, with the help of her sister Clara, ran an immensely successful business, well before it was fashionable or common for women to enter the business world.
My name is Lois Emerson and I have collected and studied Tonnesen's work for nearly twenty years. Recently, I have had time to focus on identifying the unsigned works of Beatrice Tonnesen, as well as the works of other artists which may have originated as Tonnesen photos. On this site, I hope to share what I've learned, and learn from others through discussion and the sharing of images. Except where otherwise noted, the vintage prints whose images appear here are from my collection, and image captions are written by me and copyrighted. Original photos by Beatrice Tonnesen have been used with permission from the owners, The Oshkosh Public Museum and various members of models' families, and those original photos owned by the Winneconne Historical Society have been restored and presented by Sumner Nelson.
Sumner Nelson, great-nephew of Beatrice Tonnesen and a keeper of family heirlooms, provides all of the technical expertise required to present and maintain this website, including the restoration of the images presented. Sumner operates as Sloppypilot Digital Media Studio, and moonlights as a captain of EMB-145 aircraft for Expressjet Airline, which provides flight carriage for Continental Airlines and United Airlines.
Note: To see galleries of Tonnesen's photos and prints, go to the "Beatrice Tonnesen Catalog" on the top right of our Home page, click and select the album(s) you wish to view. There are 16 albums in all.