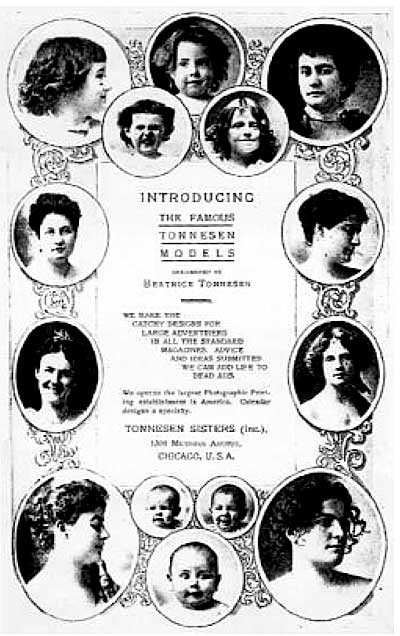 Following is a reprint of an article in the Oshkosh Daily Northwestern from Wednesday, September 29, 1954. The image of The Famous Tonnesen Models is from an advertisement in the 1903 issue of Profitable Advertising. Admittedly it is of poor quality. I am looking for an original to properly reproduce for a Zoomify image.
Beatrice Tonnesen Introduced New Trend In 1890 Advertising

Photographer, Oshkosh-Trained, Wins World Renown
Author Turner says that in the pages of "Advertising Experience", published in Chicago in 1899, "There were captivating advertisements by Beatrice Tonnesen of Chicago who pioneered the use of live models in advertising. She offered for photographic purpose an unlimited range of beautiful and fascinating women, handsome men and pretty, bewitching children.' " The author points out that one of her fascinating women was shown, dressed only in a skin-clinging union suit, tugging at the grips of an exerciser. But, he says, "More conventional were Beatrice Tonnesen's pictures of dining cars on the Chicago, Burlington and Quincy Railroad, in which all the tables were occupied by Tonnesen models, looking no less poised and well-bred than the young women who are photographed in stratocruisers today."

At the age of 83, Miss Tonnesen is quite capable of giving her own version of how she began using live models for advertising purposes.

Born in Winneconne, Jan. 24, 1871, Beatrice Tonnesen moved with her family to Oshkosh when she was 5 years old. "The family soon recognized that art was to be my career, so I was given all the art opportunities Oshkosh offered." She says. It was her sister, Clara, who said one morning "Why couldn't Beatrice learn photography and make real pictures with the camera?" Beatrice says the idea took her by storm and that her mother made arrangements that same day with the leading photographer, Cook Ely, to teach her for $100.

Miss Tonnesen set up her first business in Menominee, Michigan, where she won the reputation of making people beautiful that followed her all through her photographic career.

A year later, Miss Tonnesen was offered the studio of a well-known photographer on Michigan Ave., in Chicago, and she and her widowed sister, Clara, packed up and moved to the big city. There were like "Innocents Abroad", Miss Tonnesen says, with Clara running the business part and she taking the pictures.

"When 'Beatrice Tonnesen, Photographer' appeared in big gold letters across the large plate glass window of the studio, it did the trick," says Miss Tonnesen. Reporters from all the Chicago papers came almost daily and columns were written about her photographic art. Among the wealthy and prominent families who patronized her studio were the Armours, Pullmans, Bartletts, Potter, Palmers and Selfridges. Mrs. Palmer was instrumental in having Miss Tonnesen appointed to represent American photography at the World's Fair in Paris. "This was of course a great honor," Miss Tonnesen says, "but I was not capable to undertake such a stunt as that, the great handicap of my defective hearing making it impossible.

While specializing in portraits, Miss Tonnesen recalls that "One day we thought up a fine scheme. We would make advertising pictures using live models, which had never been done before." Time magazine, in referring to the epoch making episode in a September issue for 1949, says: "…. Then destiny struck in Chicago; a photographer named Beatrice Tonnesen used pictures of live girls in ads for the first time."

A Chicago newspaper wrote the following about Miss Tonnesen's innovation in 1893; "…. A clever young woman who has fallen in with a popular trend in art matters …. Taking pictures which are sought after by art houses and artists themselves, for she is fertile in ideas as well as clever in execution."

Another Chicago newspaper describing her activities later in 1898 said, "If you should see a good looking, stylishly dressed, businesslike young woman critically studying the face and figure of a pretty working girl in a car, or chasing after her on the street, you may be pretty sure you will see that girl before long in some artistic and taking advertisement, for you have caught Miss Beatrice Tonnesen, Chicago's woman photographer, in the act of securing one of the famous 'Tonnesen models' that are in demand the country over." The article also says, "These pictures are taking the place of the old-fashioned advertisements in the magazines and other publications. Miss Tonnesen's scheme is to supply a picture that will suggest, at a glance, all the merits of the article in a convincing manner."

Buyers from large calendar firms came to the Tonnesen studio to purchase designs. They would buy her pictures by the dozen and all were competitors so it kept Miss Tonnesen busy creating to avoid the least similarity between any of them. "I made hundreds of them each and everyone entirely different in subject matter and arrangement." So busy was Miss Tonnesen she had little time to think about the money that rolled in along with the orders. "One year I designed and sold $20,000 worth of pictures and paid $1,800 income tax.", she remembers.

When her studio lease ran out in 1930 Miss Tonnesen retired to her sister's home in Winneconne (Wisconsin). She was destined, however, for still one more "first" in her "Mars Ware". This she created from clinkers and her pieces were such unusual and original works of art that Paramount Pictures asked her to allow them to make a "short" movie on "Mars Ware." The movie was shown throughout the world and brought many letters to the artist.

Although her 84th birthday is approaching, Miss Tonnesen still plies her art in her room at St. Mary's Home, 77 Boyd St., by creating original designs for brooches and earrings from seashells.