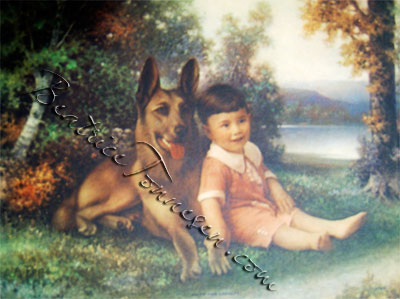 Two prints commonly found on early twentieth century calendars with the signature "A. Pope," originated as photos by Beatrice Tonnesen. The original photos can be found in the Tonnesen archive of the Oshkosh (WI) Public Museum.
The calendar prints are "Faith and Loyalty," featuring a small boy holding his German shepherd's paw – shown top right, and an untitled print featuring a sleeping boy with a dog who is guarding him. (That print, along with the original Tonnesen photo from which it came, is shown in our post titled "Popular Boy and Dog Image…", December 23, 2007.)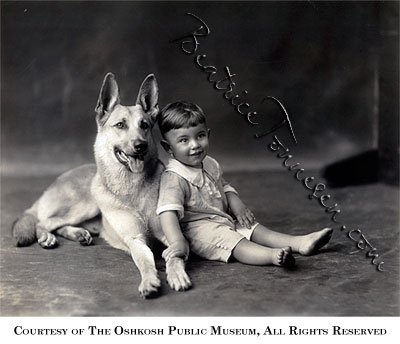 Shown here, below the print titled "Faith and Loyalty," is the original photo by Beatrice Tonnesen from which "A. Pope" apparently painted. I've included a third print (bottom) which is unsigned, but is done in a style similar to the "A. Pope" prints and which features the same boy and shepherd dog as in "Faith and Loyalty." The boy wears a straw hat and sits by a battered valise that appear to be the same props used in "The Barefoot Boy" (See Slideshow Album 1), a print by R. Atkinson Fox, that also started as a Tonnesen photo. So I would guess this bottom print, too, began as a photo by Beatrice Tonnesen, although no photo has yet surfaced.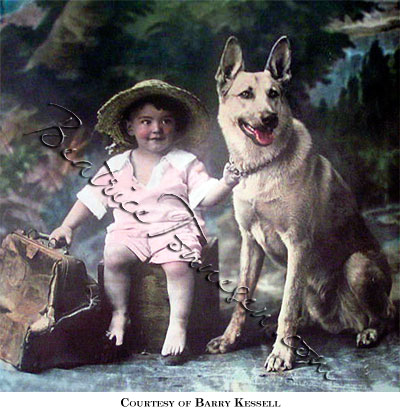 And who is A. Pope? I don't know. I'm not aware of anything signed "A. Pope" except these prints. There was an Alexander Pope (1849-1924) who painted dogs and wildlife. But these prints don't look like A. Pope's work. Could "A. Pope" be yet another R. A. Fox pseudonym? Could it be a pseudonym for Beatrice Tonnesen? Maybe someone out there knows.
All Content Copyright 2008 Lois Emerson