These colorful art prints started as black and white photos by Beatrice Tonnesen. Surprised?
Please read on… and view Slideshow Album 1.
If you are a collector of early twentieth-century art prints, calendars or advertising, chances are you have works by Beatrice Tonnesen (1871-1958) in your collection. And you may not even know it!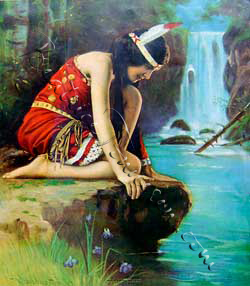 That's because a signed Tonnesen is a relative rarity. Beatrice Tonnesen, a phenomenally successful Chicago-based photographer, was also the artistic genius behind many of the art prints that graced calendars, picture frames and magazine and newspaper ads from the turn of the last century through 1930, and beyond. Most often, it appears, her photos were unsigned and unattributed, purchased by publishers or advertisers, tinted or otherwise enhanced, and copyrighted by them for their own use. A few were signed by Tonnesen and published on her own or by others. In many of those, Tonnesen appears to have painted from her own photographs. Most surprisingly, however, some of her photographs appear to have formed the basis for art prints, painted and signed by other artists of the day.
My own acquaintance with Tonnesen began in the late 1980's when, as a collector of prints by R. Atkinson Fox (1860-1935) , I learned that he shared a studio with Tonnesen for a time. Some of Fox's prints had a photographic quality, and I wondered if he had painted some of them from Tonnesen's photos. It now appears I was right. Retired now, and with more time for antiquing and for conducting internet research, I've learned a lot about Tonnesen and her work.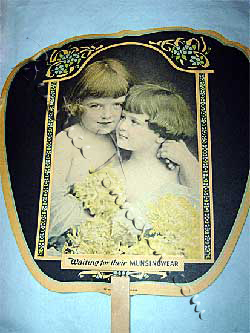 By the early 1920's when noted calendar artist R. Atkinson Fox reportedly joined Beatrice Tonnesen in her Chicago studio, she had probably been supplying photos to artists for more than twenty years. An article titled "Ideas for Dull Artists" in the Chicago Daily Tribune, November 8, 1896 began "Much of the recent art has its origin in the negatives of skillful picturetakers…" Turning to Tonnesen in particular, it went on to report that she "takes pictures which are sought after by the art houses and the artists themselves, for she is fertile in ideas as well as clever in execution."
In fact, the article continued, "So great are the inroads which the photograph is making into the realm previously ruled by the brush, it is scarcely an exaggeration to say the photographic galleries are getting to be the centers of popular art…" The article ended by contradicting its own headlined description of the artists who worked from photographs as "dull", declaring a picture produced in this manner "is in fact a real work of art."
So, with the uncredited work of Tonnesen and other photographers having appeared on calendars, in ads and as framed prints- some having first been turned into oils and watercolors signed by other artists – how do today's collectors go about identifying which of their treasures originated as photos by Tonnesen or others?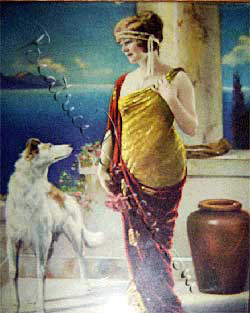 I don't pretend to know much about the contributions of the other photographers of the day. But I do know that a great many of the calendars produced between 1900 and the 1930's contained artwork based on Tonnesen photos. She specialized in the theme of home and family, producing tender studies of mothers and children, warm family scenes, children with their pets and, sometimes, even their fishing poles, enjoying the great outdoors. Sometimes, the mothers and children were shown awaiting news of their sons, husbands and fathers, off to fight WWI. But Tonnesen also dabbled in other popular themes of her day: fantasy flappers and Indian maidens, and romantic Victorian ladies.
Her work can be identified, not only by her superb sense of style and composition, but by the models, props and costumes she used. Most of the information I use to make these identifications has come from three sources: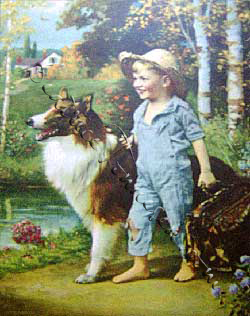 -The signed Tonnesens and prints attributed to Tonnesen by the publisher. She did sign some of her photos and prints, and a prop or a costume featured in a signed or attributed Tonnesen can be used to identify other unsigned prints. Her models, too, are usually identifiable, and the presence of a Tonnesen model in a picture is a good, but inclusive, indicator that it originated as a Tonnesen. Some of the models did work for other photographers, though, apparently, none as extensively as for Tonnesen.
– The Tonnesen archive of the Oshkosh Public Museum in Oshkosh, Wisconsin. "Beatrice Tonnesen: Photography Pioneer", a 2004 article about Beatrice Tonnesen by Scott Cross, archivist at the museum, motivated me to contact him. Cross arranged for me to view an archive of more than 150 photos produced by Beatrice Tonnesen over the course of her career. The archive is a treasure trove of the same clues and identifiers found in her signed prints.
-And, finally, I have been lucky enough to find the family members of three of the photographic models who worked for Beatrice Tonnesen. Their collections contain original photos identified as Tonnesens, along with a few identified to have originated in other less-known Chicago studios.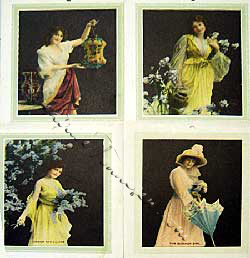 In October, 2006, 93-year-old Virginia Waller Wicks died in Wisconsin. Virginia had been a child model in Chicago. To the surprise of her family, Virginia asked that her modeling career be mentioned in her obituary. I read it online and contacted her daughter. She and her sister-in-law sent me more than 100 photos of Virginia, most of them by Tonnesen. Again, as with the signed prints and the Oshkosh Museum photos, the models, props and costumes shown are identifiers of Tonnesen's work.
But, beyond that, Virginia had identified three of her fellow models by writing on the photos! They are child models William Redmond and Janie Burkhardt (or possibly Berkhauer) , and Jean Blackwell, who often took the role of "mother."
Of those three, I have so far been successful in locating only the family of William Redmond. His daughter has shared her family's prints and photos with me. In addition, she led me to another former child model, William's cousin Betty Crowe. Betty has stated that she modeled only for Tonnesen. Now 97 years old and living near Chicago, she talked with me last summer about her modeling days.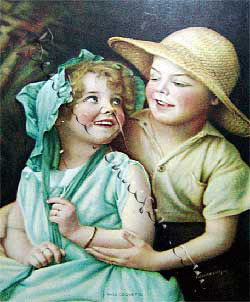 More about that, as well as information about Virginia, William, Janie, Jean, the other models and Tonnesen herself, as new pages are added. For now, please take a look at the photos that accompany this article. Chances are you've seen at least one of them before, perhaps never realizing you owe the pleasure to the genius of Beatrice Tonnesen. (For information about the prints featured here, please click on the Slideshow tab and view Album #1.)
All Content Copyright 2007 Lois Emerson