(This is the second in a series of articles on the works of Beatrice Tonnesen. The first appears below under the heading "Introduction.")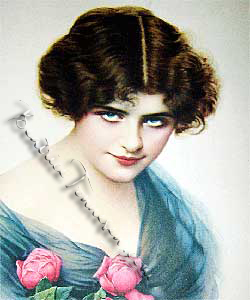 Beatrice Tonnesen has not generally been recognized as a major contributor to the so-called "Golden Age of Illustration," that period in America from about 1900-1940, when calendar art was intensely popular. Artists such as the Hintermeisters, R. Atkinson Fox, Gene Pressler, Zula Kenyon, Arthur Elsley and others carved out lucrative careers by providing the publishers and calendar companies with appealing artwork for mass consumption.
Meanwhile, Chicago-based photographer/artist Beatrice Tonnesen was also enjoying a lucrative career, but became best known for her pioneering use of live models in photos she provided to advertisers.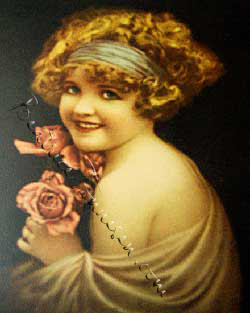 Occasionally, a photograph or print that is signed or attributed to Tonnesen can be found on a calendar or on a piece that was produced and framed for hanging. Most often, however, it appears she sold her photographs to publishers or art houses for their own use, with no requirement that she be credited. Once sold, a photograph might be colored and/or altered by studio artists, or even at times, by well-known artists who preferred to paint from a photo rather than using a live model. In those instances, the resulting artwork seems to have either gone unsigned or was signed by the artist, without reference to the photographer who provided the original photo. The result is that many more pieces of calendar art originated in Tonnesen's studio than is generally known.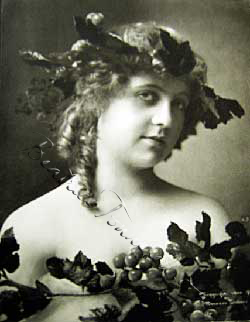 The images in Album #2 are the exceptions. All are either signed by Beatrice Tonnesen or carry a publisher's attribution to her. These are images from my own collection, but I know there are others that I do not own. I hope that visitors to this website will submit additional signed or attributed Tonnesen images for display here. To view Album #2 and read about the images, click on the Slideshow tab and select the album.
All Content Copyright 2007 Lois Emerson