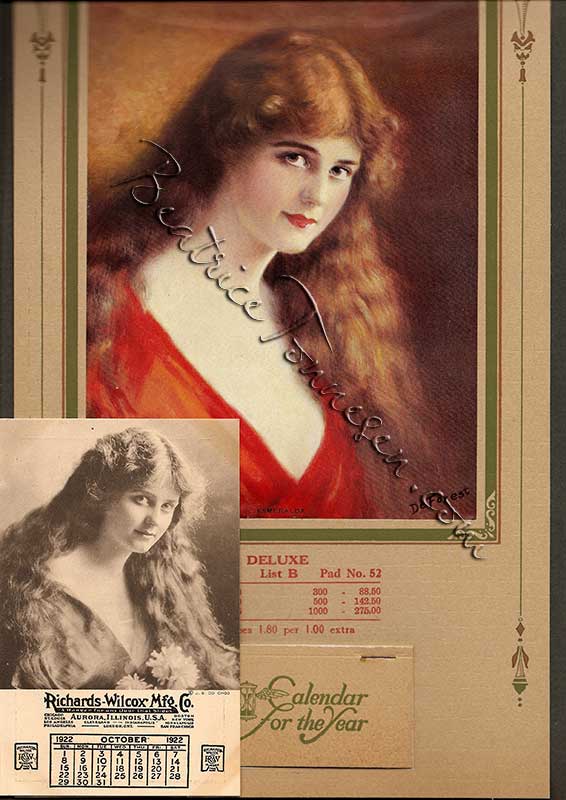 Portraits of beautiful women, glamorous and slightly risque, were hot sellers in the calendar art market of the 1920's. Prominent among the artists whose work contributed to the craze were Beatrice Tonnesen and R. Atkinson Fox. They sometimes collaborated, as we have seen with Fox's "Glory of Youth," painted from a photo by Tonnesen. (See the earlier post on this blog.)
Recently, I found a 1922 Richards-Wilcox Mfg. Co. calendar featuring a black and white photo print of a beautiful young woman, titled "Ellen" on the back of the card. Ellen reminded me of someone else: The lovely "Esmeralda", a 1926 calendar print from a painting signed "DeForest," a pseudonym used by Fox. Compare Ellen and Esmeralda, both shown in the image at right.
The Richards-Wilcox Company made door hangers, advertised on monthly calendar cards mailed to their mostly male clientele. Each card featured an attractive woman, and many of the titles, captions and write-ups would be considered sexist by today's standards . The series dates back at least as far as 1908 and ran at least through the early 1920's. I have been collecting these cards because they feature a number of Tonnesen models, and a few of the images can be positively identified as Tonnesen's work.

I believe that Ellen and Esmeralda came from the same photo, and that photo was probably by Tonnesen. It looks like her work, and the model appears in other photos by Tonnesen. Also, the satiny dress and flowers appear to be the ones worn in a Tonnesen print titled "Princess of Heart's Desire." (See the last image in Catalog Album 2 on this blog.) And, finally, there's the fact that Fox shared Tonnesen's studio in the '20s and is known to have painted from her photos. (Note that Esmeralda's artist removed the flowers from the dress, just as Fox did when he painted "Glory of Youth" from Tonnesen's photo.)
And, here's another tantalizing tidbit about the Richards-Wilcox calendars: They occasionally used their models' real first names when they titled their calendars. So it's possible that the Tonnesen model shown here really was named Ellen. I'm hoping someone out there will recognize her.
Copyright (c) 2011 Lois Emerson