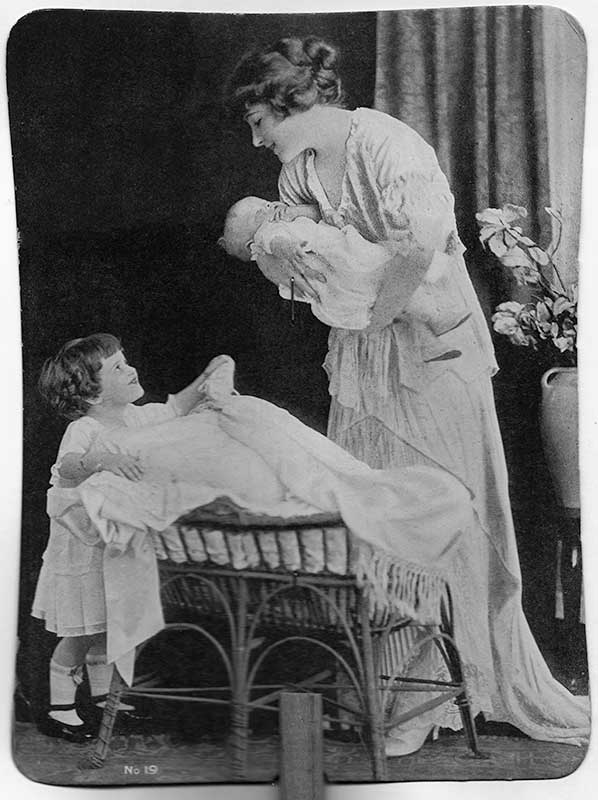 Picture 10 of 10
This touching photo can be identified as the work of Beatrice Tonnesen through the bassinet and carpet, seen in other verified Tonnesen works. This scene, circa 1916, features Virginia Waller (1913-2006) as the big sister. I believe the mother was portrayed by professional model Adelyne Slavik (189? - 1984). The back of the fan (not shown) states: "Keep Cool and Trade With M. L. Saylor, Dealer in Staple and Fancy Groceries, Notions, Shoes and General Merchandise, Confectionery and Drugs. Woodsboro, Md. Phone 17-F5." The fan was printed by Myers Mfg., Harrisburg, Pa.
In the days before air conditioning became commonplace, cardboard hand fans were often the best way to stay cool on a hot day. Decidedly useful, they were attractive and informative, as well. A lot has been written about the "calendar art" of the Golden Age of Illustration. Here on our blog, we've been focusing on the period roughly between 1900 and 1930, and the role Beatrice Tonnesen played. But it struck me recently that we have been so interested in presenting the art itself, that we've said little about the fact that what we call "calendar art" is really so much more. Most of the publishers of the era produced a whole line of advertising items in addition to calendars. Many of the paintings and photographs that were printed and offered to advertisers on calendars, were also available on blotters, trade cards and, perhaps most notably, on hand fans.
While calendars were probably most often mailed to the homes or businesses of a firm's existing customers, hand fans, with an appealing picture on one side and the advertiser's name and message on the other, were more often used to lure both new and existing customers into the advertiser's establishment. The intriguing book,
Fans- Advertising & Souvenir
, by Donald Bull and Rudolphe Roger (Schiffer Publishing Ltd, 2012. www.schifferbooks.com) offers several examples of the ways in which fans were used as advertising premiums. They were offered free with a purchase, or free for just stopping in, or sometimes even as a contest, engaging the customer with games or drawings for prizes, as described in print on the fans.
These beautiful relics of a mostly bygone era are popular now with collectors of vintage illustration art, as well as with those who collect various types of advertising or historical memorabilia, perhaps from a hometown or state, or a long gone business establishment. The accompanying slideshow includes samples of the materials used to market the fans, as well as the artwork and advertising on the fans themselves. Not surprisingly, all of the fans I've chosen for display feature images that originated as photos by Beatrice Tonnesen, but the work of many more of the most prominent artists of the Golden Age of Illustration – R.A. Fox, L. Goddard, Zula Kenyon, Rolf Armstrong and Hy Hintermeister, to name only a few- can also be found on these beautiful collectibles. Scroll over the images in the slideshow for information on each.
Copyright 2013 Lois Emerson
[Image descriptions are available on mouseover. A larger version is available from the Full Screen button at the bottom right of the slideshow frame.]