In the early part of the 20th century, Chicago was a hub of advertising art production and home to many of the country's most talented artists and models. And so it was, that some of the best known models of the day turned up in the works of Chicago-based artist-photographer Beatrice Tonnesen. Among them, I believe was Adelyne Slavik (1892? – 1984).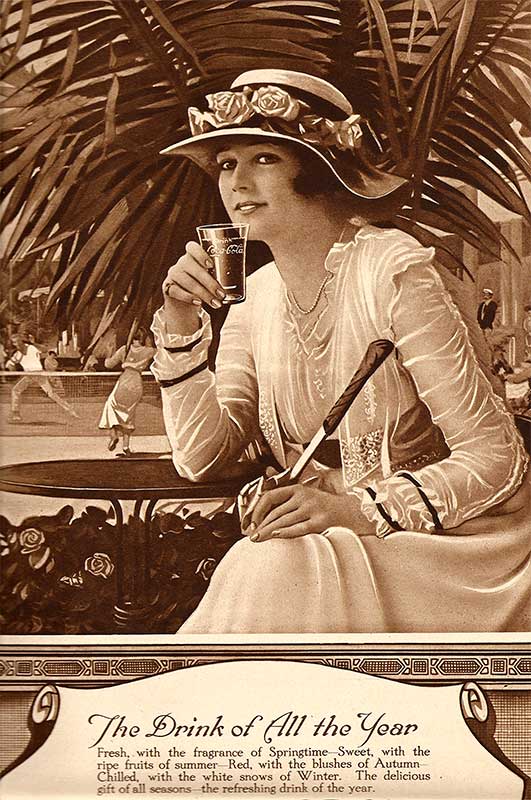 My search for images of Slavik led me to a series of photographs taken in early 1917 by the
Chicago Daily News
. There, I found Adelyne Slavik posing with several other women whose names I didn't recognize, but whose faces I had seen in vintage ads and calendar art. One of them, identified as Helen Dale, was a woman I thought I recognized as a "Coca-Cola girl" featured in several magazine ads and on the serving trays so popular with Coca-cola collectors. Another photo showed Marie MacDonald, who appears to me to be the woman shown with Dale on a 1918 Coca-Cola advertising image commonly known as "Beach Girls."
Also, shown in that same series of photos was May LaNell (1899-1975) a well-known photographic and fashion model who also may have modeled for Tonnesen. This amazing assemblage of models caused me to wonder what had called them together for the cameras of the Chicago Daily News. Searching for news accounts that might explain their collective presence, I found two articles in the Chicago Daily Tribune about an event called the Style Revue at the Strand Theater, February 4 – 10, 1917, presented by the Garment Manufacturers Association. Of the forty models participating in the Style Revue, only four were named in the Tribune, but among them were Adelyne Slavik, Helen Dale and Mae LaNell. In a promotional article appearing February 3, 1917 and titled "Pink," Helen Dale was said to have been…"dubbed 'the pink lady' because her brunette beauty lends itself so well to a pink sports suit, a rose colored evening dress, and an orchid afternoon silk dress, all of which she will wear at the Style Revue."
Three of the photos from the Chicago Daily News are presented at left. (Click on the photos to enlarge them.) Below them, in a slide show, are Coca-Cola ads featuring the women I believe to be Helen Dale and Marie MacDonald, along with other advertising images I believe also to be of Helen Dale. I've also included an image I believe to show May LaNell, which appeared on page 49 of "Home Craft: The American Woman's Handibook," Copyright 1920 The Magazine Circulation Co., Inc., publishers of Woman's Weekly, Chicago.
I hope you, our site visitors, will compare them with the Chicago Daily News photos and submit your comments. Do you agree with my identifications? Does anyone have further information or photos of Helen Dale, Marie MacDonald, May LaNell or Adelyne Slavik?
Copyright 2013 Lois Emerson