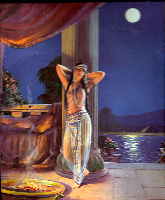 [Update: 12/6/2012: The portrait at right is of Leonora Woolfenden. It belonged to the late Betty Lou Salisbury, daughter of Woolfenden's first cousin, Lucy Bate Rowe Salisbury, whose granddaughter, Elissa Ball Hamlin, found it this week among the family heirlooms. She photographed it and emailed the image to her cousin, Jeff Salisbury, who forwarded it to me. At some point, Betty Lou Salisbury added important identifying information to the back of the portrait. What she wrote further confirms that the woman who began life as Nora Hudson became Leonora Woolfenden, known both for her work at the James Arthur Studio in Detroit and as the woman behind the acclaimed illustration art pseudonym "L. Goddard." Salisbury's message, so helpful to today's collectors, states: "Nora Hudson Goddard Wolfenden; Chosen one of the ten most Beautiful Women in the world – Photographic Convention- Paris 1910 (I think). James Arthur – Photographer – Detroit and 'friend'." Many thanks to Elissa Ball Hamlin and Jeff Salisbury for providing this image and its accompanying information!
-Ed.]
The prints signed L. Goddard are probably the best known examples of the technique of photo illustration produced during the Golden Age of Illustration, about 1900-1940. In fact, it was because I was familiar with L. Goddard's art, reportedly a collaboration between Detroit-based photographer Leonora Woolfenden (1877 – 1955) and Chicago-based artist Rudolph Ingerle (1879 – 1950), that I first began to wonder if some works by artist R. Atkinson Fox (1860 – 1935) might have resulted from a similar collaboration with photographer Beatrice Tonnesen.
Of course, since then, we've learned that, not only did Fox sometimes paint from Tonnesen's photos, Tonnesen, herself, sometimes painted from them. And so, over the years, I've found myself wondering to what extent the same was true of Woolfenden. An advertising blurb found on one 1920's calendar does indicate that she sometimes painted from her photographs, but it is unclear as to which works she painted or what signature she used. Collectors have been frustrated by a lack of information about how and where she worked, as well as about her personal life. Though Rudolph Ingerle's life and career as a Chicago- based landscape artist was well-documented, little was known about Woolfenden, except that she worked with the James Arthur Studio in Detroit for decades, becoming instrumental in its continued success following the death of James Arthur in 1912.
Awhile ago, I spied a Tonnesen model in a print by Goddard and it re-awakened my curiosity about Leonora Woolfenden. Did the model commute between Detroit and Chicago, I wondered? Did Woolfenden? So, over the past year, I've been trying to track Woolfenden on Ancestry.com and other online archives. To make a very long search into a (relatively) short story, here are the highlights of what I found: (Note the many variations on her first and last names which complicate matters!)
In the 1900 US Census, Lenore Goddard , born November 4, 1877, can be found living with her widowed mother, Mary Jane, age 46, and her brother Walter, age 11, in Detroit. Lenore listed her occupation as "artist." A 1901 city directory indicates her employer was "James Arthur." (The spelling of "Lenore" is my best guess after viewing the original record. It might also say "Lenor" or "Lenora.")
The 1910 US Census finds Lenora married to George R. Wolfenden and living in Detroit. She lists her occupation as "artist" employed by "photographer," and states she was born in England.
Continue reading →