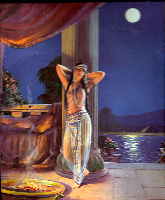 [Update: 12/6/2012: The portrait at right is of Leonora Woolfenden. It belonged to the late Betty Lou Salisbury, daughter of Woolfenden's first cousin, Lucy Bate Rowe Salisbury, whose granddaughter, Elissa Ball Hamlin, found it this week among the family heirlooms. She photographed it and emailed the image to her cousin, Jeff Salisbury, who forwarded it to me. At some point, Betty Lou Salisbury added important identifying information to the back of the portrait. What she wrote further confirms that the woman who began life as Nora Hudson became Leonora Woolfenden, known both for her work at the James Arthur Studio in Detroit and as the woman behind the acclaimed illustration art pseudonym "L. Goddard." Salisbury's message, so helpful to today's collectors, states: "Nora Hudson Goddard Wolfenden; Chosen one of the ten most Beautiful Women in the world – Photographic Convention- Paris 1910 (I think). James Arthur – Photographer – Detroit and 'friend'." Many thanks to Elissa Ball Hamlin and Jeff Salisbury for providing this image and its accompanying information!
-Ed.]
The prints signed L. Goddard are probably the best known examples of the technique of photo illustration produced during the Golden Age of Illustration, about 1900-1940. In fact, it was because I was familiar with L. Goddard's art, reportedly a collaboration between Detroit-based photographer Leonora Woolfenden (1877 – 1955) and Chicago-based artist Rudolph Ingerle (1879 – 1950), that I first began to wonder if some works by artist R. Atkinson Fox (1860 – 1935) might have resulted from a similar collaboration with photographer Beatrice Tonnesen.
Of course, since then, we've learned that, not only did Fox sometimes paint from Tonnesen's photos, Tonnesen, herself, sometimes painted from them. And so, over the years, I've found myself wondering to what extent the same was true of Woolfenden. An advertising blurb found on one 1920's calendar does indicate that she sometimes painted from her photographs, but it is unclear as to which works she painted or what signature she used. Collectors have been frustrated by a lack of information about how and where she worked, as well as about her personal life. Though Rudolph Ingerle's life and career as a Chicago- based landscape artist was well-documented, little was known about Woolfenden, except that she worked with the James Arthur Studio in Detroit for decades, becoming instrumental in its continued success following the death of James Arthur in 1912.
Awhile ago, I spied a Tonnesen model in a print by Goddard and it re-awakened my curiosity about Leonora Woolfenden. Did the model commute between Detroit and Chicago, I wondered? Did Woolfenden? So, over the past year, I've been trying to track Woolfenden on Ancestry.com and other online archives. To make a very long search into a (relatively) short story, here are the highlights of what I found: (Note the many variations on her first and last names which complicate matters!)
In the 1900 US Census, Lenore Goddard , born November 4, 1877, can be found living with her widowed mother, Mary Jane, age 46, and her brother Walter, age 11, in Detroit. Lenore listed her occupation as "artist." A 1901 city directory indicates her employer was "James Arthur." (The spelling of "Lenore" is my best guess after viewing the original record. It might also say "Lenor" or "Lenora.")
The 1910 US Census finds Lenora married to George R. Wolfenden and living in Detroit. She lists her occupation as "artist" employed by "photographer," and states she was born in England.

The 1920 census lists her as Leanore G. Woolfenden, still living in Detroit, but divorced from George. Her occupation is listed as "Commercial Artist." Interestingly, she lists her age as "40." The 1920 Detroit City Directory lists her as Mrs. Eleanora G. Woolfenden, department manager at the Arthur Studio.
By 1930, again as indicated by the census, she had moved to Highland Park, Michigan. She is listed as Leonora G. Woolfenden, age 52. She lists her occupation as "Artist" and states she came to the US from England in 1887.
The 1940 US Census finds her living in Chicago! She is listed as Lenora Woolfenden, a 62-year-old divorcee, born in England. Her occupation is listed as "saleslady" and her field as "cosmetic wholesale manufacturers." Woolfenden is listed as the head of household, living with her "partner", Irene Shaw," age 30, a "retail mail order buyer." Respondents in the 1940 census were asked to state where they lived in 1935. She replied that she had been at the same address in Chicago. So, we now know that she left the Detroit area for Chicago sometime between 1930 and 1935.
With the discovery of Woolfenden's apparent retirement from the field of art, the only thing left, I thought, was to determine her date and place of death. But that's where things got interesting! I found a California death record for Leonora H. Woolfenden, who died April 25, 1955. The record states she was born November 4, 1877 in a country other than the US. Her mother's maiden name was Watkins and her dad's surname was Hudson! Throughout my research, her mother's maiden name had been listed as either Watkin or Watkins, and Woolfenden's birth date was consistent. So, this had to be the right Leonora Woolfenden. But where did this "Hudson" person come in? And, if Woofenden's maiden name was Hudson, where did Goddard come in?
Enter Jeffrey and Penny Salisbury and their family tree on Ancestry.com! Using the Hudson name in my searches, I located a birth record in England. A "Nora Florence Weate Hudson" was born in Aston, Lancashire England to Mary Jane Watkin and John Hudson on November 4, 1877. Using that information, I found the Salisbury's family tree. Nora Hudson was listed, and her parents were listed as Mary Jane and Richard Goddard!
Since then, I've talked and emailed with Jeff Salisbury. He confirmed that family lore has it that Nora became a successful artist in Detroit. That pretty much confirmed, for me, that Nora Hudson and the Leonora Woolfenden of L. Goddard fame were one and the same. It seems that, shortly after Nora's birth, her mother left for the United States, leaving Nora with her maternal grandmother. What became of her father is not known, but Nora's mother eventually married Richard Goddard, brought Nora to the US, and settled in the Detroit area. Nora, at some point, apparently, became Leonora – the name does turn up in family documents – although details of the change are not known. Nor did the family know of Leonora's marriage to George Woolfenden, or of her work as L. Goddard.
Jeff has incorporated this new information into his family tree, and has shared some family stories with me, for which I am very grateful. Here's an account of one family member's recollections of "Nora."
"I remember Nora driving up to our house on 13th Street in Detroit in a big chauffeured car – bringing us Christmas presents…We had a dog named Jack – wire hair terrier. Nora had Gladys bring Jack and she took pictures for advertising purposes…At the time Nora worked for the Arthur Studios in Detroit."
L. Goddard produced beautiful art prints for calendars and other items of home décor from roughly the 1910s through the mid-1930s. Goddard's subjects, like Tonnesen's, included happy families, beautiful flappers, and Indian maidens. In addition, Goddard produced images of exotic Egyptian scenes, and pirates and gypsies. The slideshow at upper right shows a small sampling of Goddard's work.
© 2012 Lois Emerson