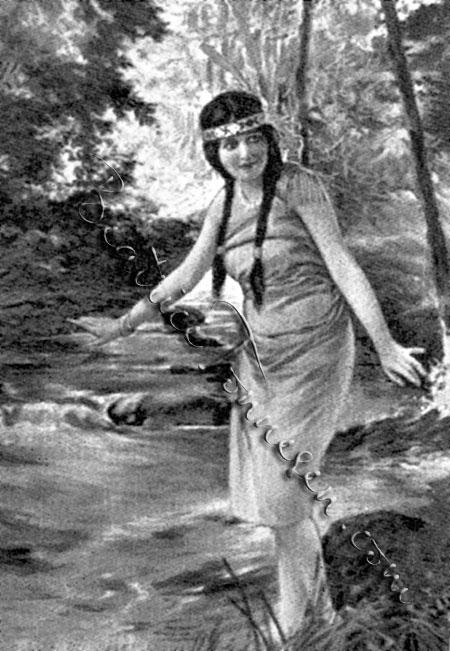 A photograph by Beatrice Tonnesen found recently by the Winneconne Historical Society in Winneconne WI, features a woman dressed as an Indian maiden. This image is the central figure in an art print titled "The Dawn of Woman" by Homer Nelson, indicating that Nelson painted from Tonnesen's photo. The distinctive headband worn by the woman appears in at least one other Nelson print, leading me to believe that he was a repeat customer of the Tonnesen Studio.
Nelson is known for his many paintings of Indian maidens in outdoor settings that adorned calendars of the 1920s and '30s during the Golden Age of Illustration. Fueled by the popularity of the Ziegfeld Follies and other costumed dance troupes during the pre-pinup-calendar era, Indian maiden prints were all the rage then, and maintain their popularity with today's collectors.
Shown at top right is the Nelson print as seen on page 198 of the indispensable guide to calendar art, Vintage Illustration: Discovering America's Calendar Artists 1900-1960 by Rick and Charlotte Martin. Collector's Press. 1997. Image used with permission.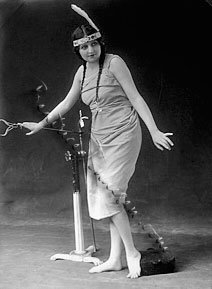 Shown below the Nelson print is an image of the original untitled photograph by Beatrice Tonnesen. Courtesy Winneconne Historical Society, Winneconne, WI. All rights reserved.
Copyright ©2009 Lois Emerson