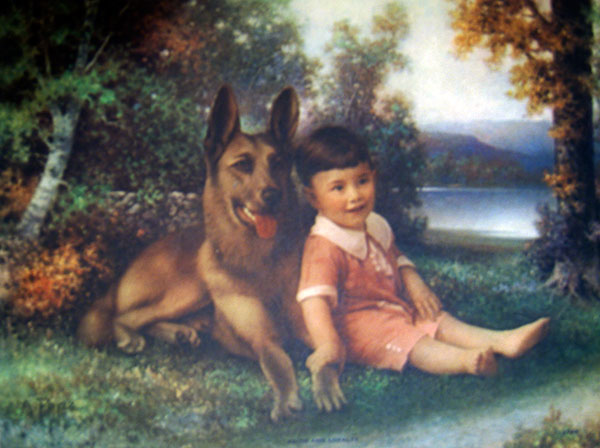 During the 1920's, two of Beatrice Tonnesen's photos, both featuring charming children protected by their faithful dogs, became colorful calendar prints signed "A. Pope." Because no artist listing or biographical information has been found for A. Pope, collectors, myself included, have speculated for years that the signature might be a pseudonym for another artist. Possibilities include Tonnesen herself and R. Atkinson Fox (1860-1935), who shared Tonnesen's studio for a time and was known to use pseudonyms. It's also possible that A. Pope was either the real name or a pseudonym for an unknown staff artist, employed by either Tonnesen's Studio or by the publisher of the print.
Recently, however, I purchased a 1927 salesman's sample calendar featuring A. Pope's "Safely Guarded" which came from a photo by Tonnesen, previously titled "On Guard." Under the print, the following information appeared:
(c)1924 Robert Chapman Co. NY. Reproduced from the original by A. Pope.

The two most popular picture subjects in the world to the average individual are children and animals and when the twain are combined so beautifully as in this wonderful painting the appeal is universal. "Safely Guarded" was the last canvas ever executed by the late Alan Austin Pope, whose fame as an artist during the Chicago's World's Fair in 1893, where his work was exhibited, was international. Mr. Pope painted this picture from a Photo Study which had previously been awarded the first prize in an important National contest conducted for the Advancement of Art in Photography, and the combination of the two mediums has produced a picture that is a gem of exquisite beauty.
As you might guess, I was quite excited to discover this new information, and I immediately set about trying to find some trace of an artist named Alan Austin Pope who died prior to 1927. I've searched newspaper archives, census reports and various art and artist listings, but, so far, I've found nothing! Nor have I been able to find a comprehensive listing of art displayed at the Chicago World's Fair or any evidence of "a National contest conducted for the Advancement of Art in Photography" at which Tonnesen's photo might have won an award. That the publisher gave us a full name, rather than only the initial "A" is helpful, however, because it differentiates the "A. Pope" who painted from Tonnesen's photos from the better known "Alexander Pope," painter of wildlife, who, apparently, also signed some of his works "A. Pope."
So the question of who painted the Tonnesen photos remains: Who was A. Pope? Publishers were sometimes known to have created fictionalized write-ups for their calendar prints. They also reportedly asked artists to use pseudonyms in order to appear to have a larger stable of artists from whose work they chose their featured prints. So, be it fact or fiction, A. Pope, and now Alan Austin Pope, remain mysteries to me! Does anyone out there have an answer?
(To read previous posts and comments about A. Pope's prints, use the search function at left.)
Copyright (c) 2010 Lois Emerson