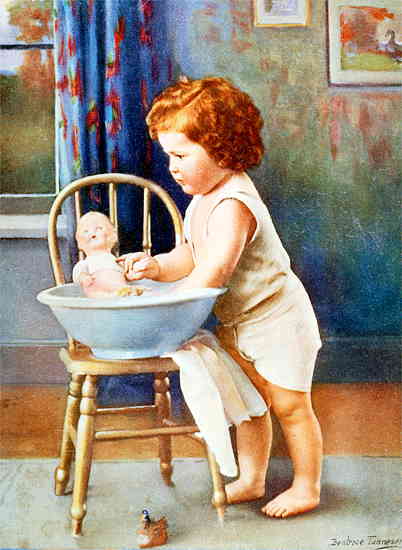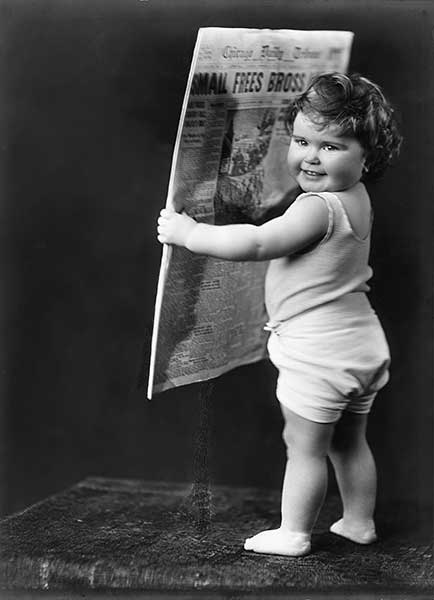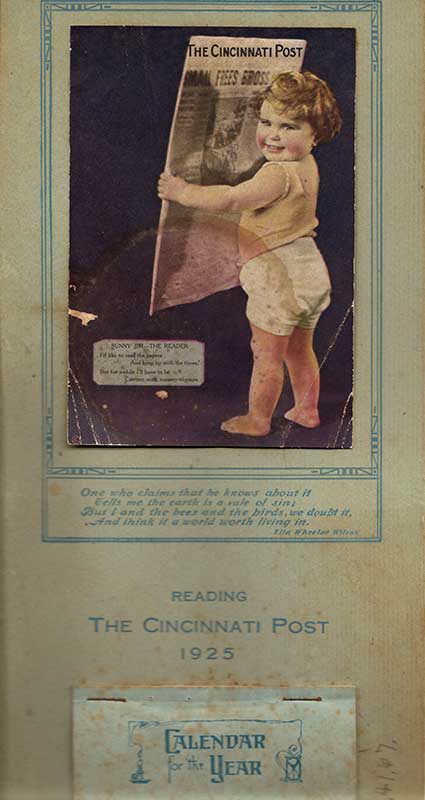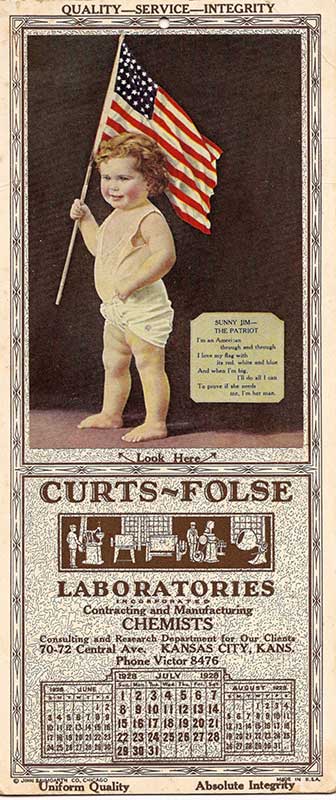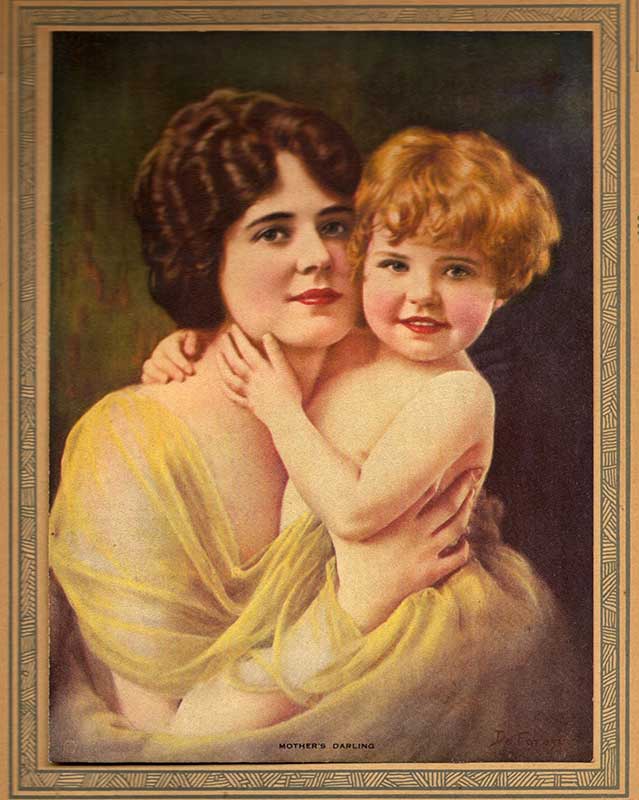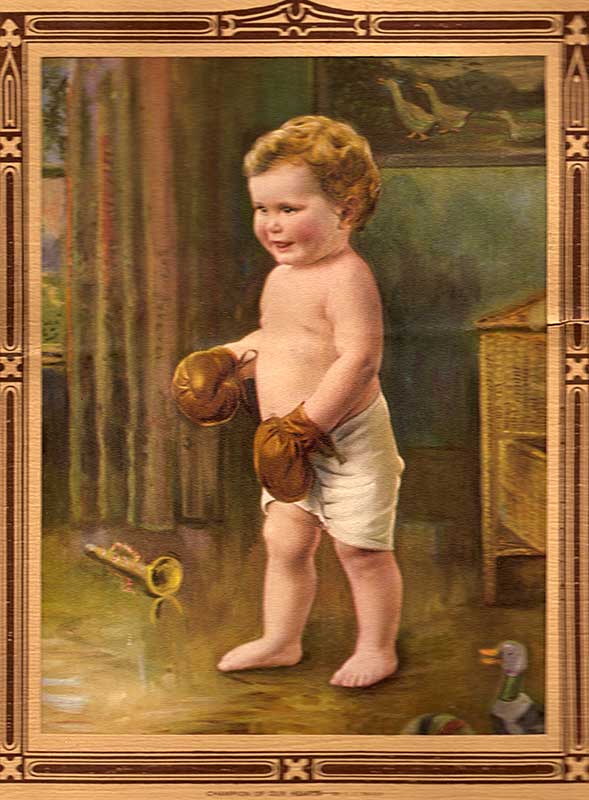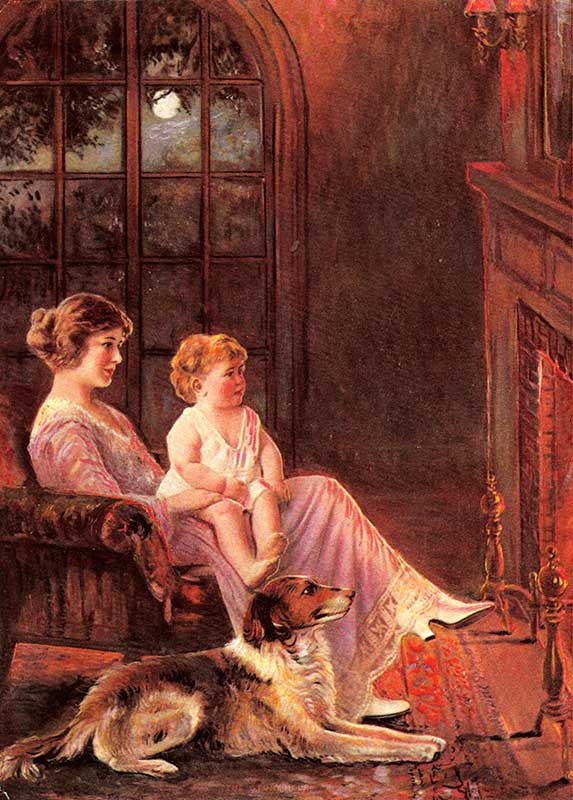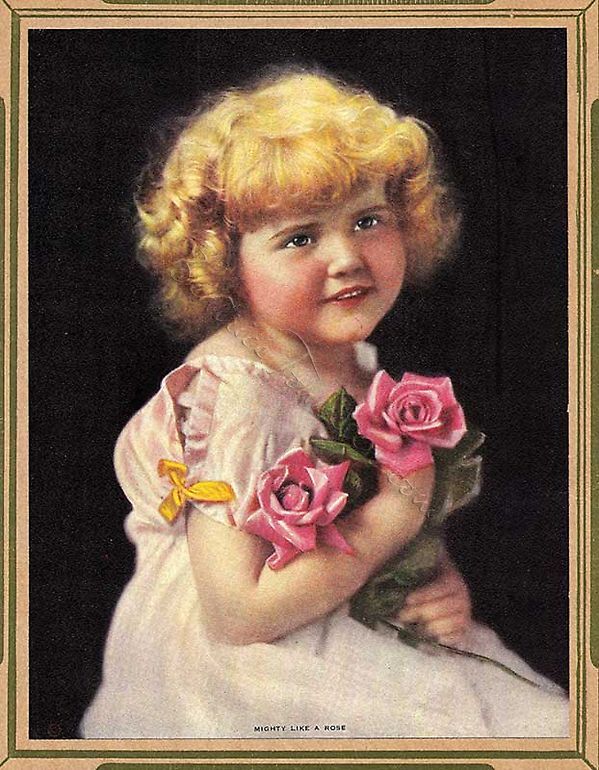 Cute kids sell calendars! And Beatrice Tonnesen obviously knew a cute photo subject when she saw one. More than a dozen Tonnesen-produced images of this chubby, curly-haired charmer have surfaced, many of them originally appearing on calendars and other advertising goods during the mid to late 1920's. At least two prominent artists of the time, C.C. Zwaan (1882-1964) and R. Atkinson Fox (1860-1935), as well as Tonnesen herself, apparently painted from photos of this toddler.
One of Tonnesen's photos shows the child holding a newspaper. Its headline refers to a late November, 1922 event. If that date can be used as a guide, I would guess the child was born in late 1920 or early 1921. Interestingly, some of the photos portray him/her as a girl, others as a boy. It appears the child modeled for a period of at least several months to a year, portraying a girl in later photos. Then there are some prints of an older girl, perhaps four or five years old, who may be this same child.
The slideshow at right, displays this seemingly ever-playful and good-natured toddler in a variety of poses and settings. Images are of original prints from my collection, unless otherwise noted. Here's the information I have on each of them:

1. Illustrated print signed by Tonnesen, presumably indicating she painted it from one of her photographs. The photo from which it came is part of a series of play-themed shots – some now owned by Oshkosh Public Museum and others owned by Winneconne Historical Society –which may have all been taken during a single photo session. This print is owned by Althea Nelson, a descendent of Tonnesen's brother, Frederick.
2. Photo by Tonnesen showing The Chicago Daily Tribune, most likely dated November 30, 1922. The original is owned by Winneconne Historical Society.
3. Unsigned calendar print, painted from Tonnesen's photo. It was part of a series in which the child portrayed a character named "Sunny Jim." This one was titled "Sunny Jim – the Reader." Note that the Tribune banner was altered to become the Cincinnati Post.
4. "Sunny Jim – the Patriot," a calendar print painted from a Tonnesen photo now owned by Oshkosh Public Museum. Though the shot probably dates to 1922, the calendar is dated 1928.
5. "Mother's Darling," signed DeForest, a pseudonym of R. Atkinson Fox. I can't absolutely prove that Tonnesen was the photographer of the image from which Fox painted, but it's likely. He shared Tonnesen's studio at the time. The child seems a little older here.
6. Another playful illustration titled "Champion of our Hearts," attributed to C.C. Zwaan on the calendar mat. This appears to have come from a photo that was part of the Tonnesen series, but there is no way to know for sure unless the original photo surfaces.
7. Titled "The Story Hour" and unsigned, this print can be identified as having originated as a photo by Tonnesen, because Mom is wearing one of the Tonnesen Studio's dresses. This same mother, wearing this same dress, appears in our post titled "8 Great Finds…", bouncing this same toddler on her knee, leading me to suspect that both photos were shot in the same session.
8. "Mighty Like A Rose," by DeForest (R. A. Fox), painted from a photo, probably Tonnesen's. Could this be the toddler a few years later?
For more images of this child, see Catalog Album #9. Does anyone out there have others? We'd be happy to post them.
Copyright © 2011 Lois Emerson