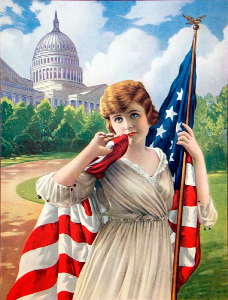 Year after year, calendar art chronicles the life of the American people – their changing interests, fashions, experiences and current events. During World War I (1914-1918) and the years immediately following, with the country immersed in the war effort, art publishers turned to related themes. Beatrice Tonnesen was among the many prominent artists who provided poignant scenes of soldiers departing for or returning from war, families waiting for news of their loved ones, and stirring scenes of heightened patriotism. The slideshow at right shows several examples of WWI era calendar and wall art created from photos by Tonnesen.
"Keep the Home Fires Burning." Calendar print circa 1918, from an original photo in the Tonnesen archive of the Winneconne (WI) Historical Society.
"Daddy Is Home Again." Sheet music, copyright 1919, Chas. A. Roat Music Co. Mom, who wears one of Tonnesen's dresses, and Dad were frequent Tonnesen models. The chair, table and foot stool were Tonnesen props.
"When They Meet Again." Note the soldier is the same model seen in the previous image. Other models are Janie Berghauer (1916-1994) and a model identified on other images as "Jean Blackwell," about whom I have no information. The props are Tonnesen's.
"The Waiting Welcome." Postcard copyrighted in 1915 by Gartner Bender. Tonnesen models appear in this scene with Tonnesen's props.
"A Child's Prayer at Twilight" Copyright 1919, Chas. Gustrine, Chicago. Gustrine (1870-1966) was an illustrator and publisher of patriotic themed images from about 1900 until the 1940's. This image contains furnishings from Tonnesen's studio. Mom wears a dress seen often in Tonnesen's photos.
"Her Boy's Coming Home. " Another 1919 print by Gustrine. I'm not 100% sure that this originated as a Tonnesen photo, but I'd be very surprised if it didn't. The boy is Tonnesen model William Redmond (1908-1992) and the woman wears a costume that, though quite generic, appears to be one used in other scenes by Tonnesen.
Untitled, circa 1918. This is typical of the popular "Lady Liberty" themed prints, featuring beautiful women draped in the American flag and/or surrounded by patriotic symbols, that were used for recruitment or other promotion of the war effort. In this scene, the woman wears the same dress as shown in "A child's Prayer at Twilight."
Other WWI images by Tonnesen appear in this site's Tonnesen Catalog, in Albums #4 and #15. Also see the post titled "Seven Tonnesen Models Gather for One WWI Photo."
Copyright 2013 Lois Emerson