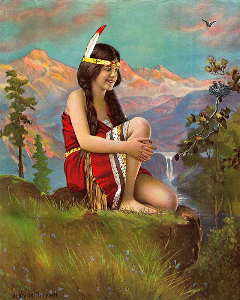 Here are the latest additions to my collection of beautiful artwork by Beatrice Tonnesen. All were created from photos by Tonnesen, and she also served as the illustrator for at least one of them. Here's what we know about the gorgeous images shown in the slideshow at right. In order, they are:
"Winona," signed Beatrice Tonnesen. The signature indicates to me that Tonnesen painted, as well as photographed, this scene. Probably published as a calendar print around 1925, it is very similar to another of Tonnesen's Indian maiden prints titled "Whispering Waters." (See Catalog Album#1.) The model, whom I believe to have been Chicago beauty queen Mary Simmonds (1896-1976), wears the same dress in both prints, and sits on the same grassy, flower-dotted ledge.
"Annette," appearing on a 1919 calendar published by J. Baumgarth Co., Chicago. The dress and chair identify this as a product of Tonnesen's studio. This woman appears in other verified photos by Tonnesen taken around 1915 – 1918.
"Better Sox Mills," a blotter, probably produced around 1920. The company apparently produced a series of these family-themed blotters, several of which featured artwork from photos by Tonnesen. Mother and child scenes were also Better Sox favorites. The toy cradle and rug are Tonnesen Studio props. Tonnesen was fond of showing children playing "grown-up," and sometimes added spectacles to illustate the theme.
Three Religious-Themed Postcards. The next three images were obviously created during the same photo session. The original photo of the young girl with the Easter lilies is part of the Tonnesen Archive of the Winneconne (WI) Historical Society. The model appears to be Virginia Waller (1913-2006).

"Perfection in Munsingwear," copyright 1920, The Munsingwear Corporation, Minneapolis. This print appeared on a calendar. The model is believed to be Eva Grady (1899-1934), who became a Ziegfeld Follies star. The Oshkosh (WI) Public Museum has an original photograph by Tonnesen, showing her in what appears to be this same underslip, holding yellow roses. I believe this print to have originated from that same photo session. I also believe, but cannot be sure, that Tonnesen was the illustrator of this print. The soft, dark sky and trees are typical of her background work.
Hand Tinted Photo of Mother and Child. The original photo is part of the Tonnesen Archive of the Oshkosh Public Museum. I have not seen this woman in any of Tonnesen's other photos. But I recognize the child from some of her other photos thought to date to the mid -to- late 1920's. The stunning art deco styling of the frame supports my feeling that this was probably published around 1930, making it one of Tonnesen's latest works. The image is behind curved glass and I didn't want to remove it for scanning, so some reflection appears.
Copyright 2013 Lois Emerson