11 – Introducing the Tonnesen Models Part 4
A news photo of Victorian and Edwardian era models accompanies images of prints from Lois' collection.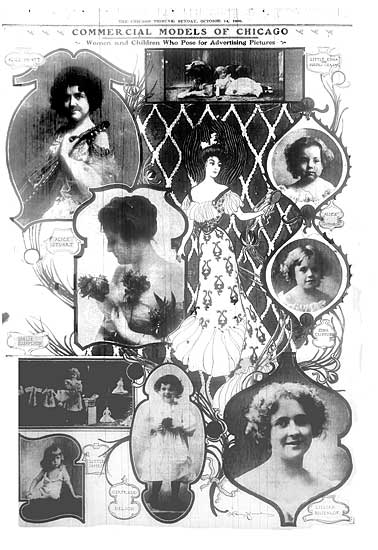 Picture 1 of 9
"Commercial Models of Chicago - Women and Children Who Pose for Advertising Pictures", Chicago Daily Tribune October 14, 1900. This pictorial identifies several turn-of-the-century models who appeared in Tonnesen's work. Some of the models shown here also appear in Tonnesen's own 1903 advertisement. (See 'Beatrice Tonnesen Introduced New Trend in 1890 Advertising') on this blog. Clockwise from top left, they are: Alice Hyatt, Little Edna and Julius Caesar (dog), Alice Gudgeon, Edna Clifford, Lillian Rosenhof, Gertrude Nelson, Little James, Rosalie Williamson, Alice Stuart.