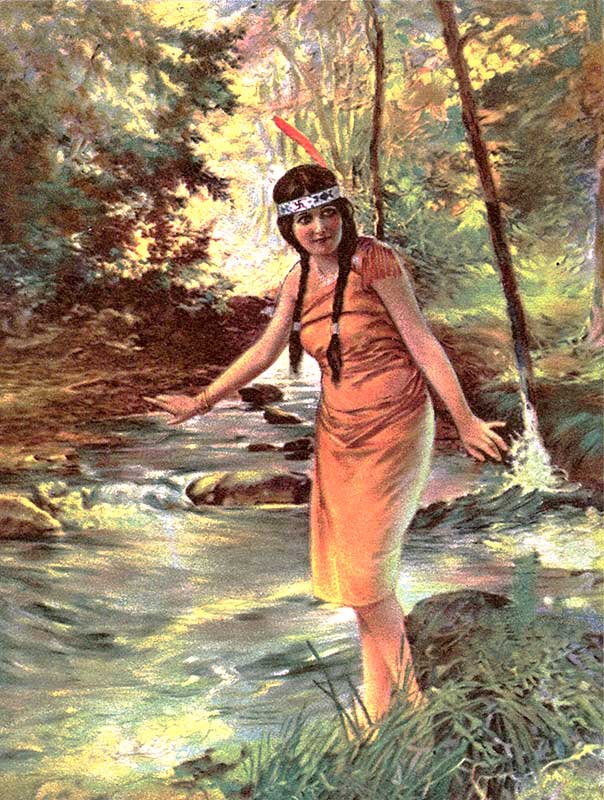 Picture 1 of 10
This illustration by Homer Nelson appeared on a 1925 calendar as part of Brown & Bigelow's "Indian Heroine Series". The source photo by Beatrice Tonnesen was found at the Winneconne (WI) Historical Society. The illustrated detail of the headband is, more or less, faithful to the photo. Mary Simmonds O'Grady (1896-1976) is believed to have been the model.
Only four of the many, hugely popular vintage calendar prints of Indian maidens have been confirmed to have been created by Beatrice Tonnesen. They are "Whispering Waters" and "Winona", both signed by Tonnesen; "Wabano" (Dawn of Woman), by Homer Nelson, whose source photo resides in the Tonnesen Archive of the
Winneconne (WI) Historical Society
; and "YooHoo!" posed by a frequent Tonnesen model and attributed to Tonnesen on a 1925 calendar. All of those images, and their stories, are gathered together in our ebook,
The Secret Source: Beatrice Tonnesen and the Calendar Art of the Golden Age of Illustration, available through Amazon.com
.
However, I've always felt that Tonnesen was responsible for many more of the posed photographs of beautiful women dressed as Native Americans and illustrated by the nation's top calendar artists, in the rush to satisfy the public appetite for the genre in the 1910s, 20s and 30s.